Air Conditioning Specialists
Timely & efficient processes from site inspection, designing, supply, installation, testing, commissioning and especially at maintenance. Our installation quality is in keeping with the manufacturer's specification which is particularly important when considering VRV / VRF air conditioning systems.
We understand that ensuring passenger safety and minimizing breakdowns are critical. Safety tests of electrical, mechanical, hydraulic safety devices and governors are carried our periodically according to maintenance protocols. We also offer a 24/7 breakdown hotline to ensure this.
Your standby generator must be ready for any power outage. Regardless of the application being a crucial hospital building or a stand-alone residence, we will make sure the generator set is always ready to take on the building's power demand at the time of a mains failure.
Printing & Mailroom Solutions
Printing machinery is a highly specialized product made solely for the volumes and speeds of printing required by the newspaper industry. Having partnerships with industry leaders ensures that our client's meet the print quality at each high-speed print run, whilst being economical to operate and reducing the labour demands of their newspaper operation.
We have customers in every corner of Sri Lanka and we ensure that we meet the after sales & maintenance requirements regardless of physical location. Having air conditioner, elevator and diesel generator installations island wide requires that we operate a fleet of vehicles and personnel dedicated to service & maintenance who are standby to be dispatched as soon as possible.
Scan Engineering always strives to introduce the most innovative technology to Sri Lanka.
One example would be DAIKIN's revolutionary VRV (Variable Refrigerant Volume) Air Conditioning System to the commercial air conditioning market.
This innovative air conditioning system (also known as VRF or Variable Refrigerant Flow by other manufacturers) has dramatically changed the way new and existing high and low rise buildings are cooled. Such pioneering technology satisfies market demands for a higher level of comfort air conditioning for buildings with special energy and water saving features at lower installation operating costs.
Furthermore, Scan Engineering is pleased to supply the Sri Lankan market with the entire range of products:
VRV / VRF Series Air-Conditioning Systems
A system with the High Capacity to suit large sized buildings with high COP (Energy Saving).
Water Cooled Screw Compressor Chillers
High efficiency Single or Twin Screw Chillers with optional Inverter Compressors offer top-class efficiency with low environmental footprint.
Centrifugal Chillers (Single or Dual Compressor)
This solution is equipped with a premium efficiency oil free centrifugal compressor resulting in reduced maintenance costs and increased reliability. No friction loss, no oil contamination, no additional oil management systems and an increased equipment life thanks to the magnetic bearing technology.
The units need no additional equipment room, cooling tower, cooling pump, or cooling piping and can be mounted on the building roof and outdoors.
Split & Multi Split Type Air-Conditioners (Non Inverter & Inverter)
Offered with various types of Indoor Units and the option of Inverter technology. This is an ideal solution for apartments, houses and small offices. Multi Split allows the connection of multiple Indoor Units to one Outdoor Unit improving the outer appearance of the building and allowing for more balcony space if installed there.

Commercial Split Series Air Conditioners
Higher capacity units suited for larger offices, halls and factory applications requiring climate control. These are also provided in various types of Indoor Units particularly Ducted Type allowing the distribution of air over a larger area while limiting the number of indoor units.
Water Cooled Packaged Air-Conditioners (Floor Standing Type)
Floor Standing large commercial air conditioning units utilize ducting to cool a large space such as shopping malls, restaurants, supermarkets, factories and offices.
Air-Cooled Packaged Air-Conditioners
Offered Indoor Unit options of Floor Standing Type, Ducted Type and Rooftop Type, these units are also designed for cooling large spaces. Now offered with Inverter technology.
Air Handling Units & Chilled Water Fan Coil Units
These are complimentary Air Side Products for Applied Systems such as Chillers. Air Handing Units (AHUs) and Chilled Water Fan Coil Units (CHWFCU) are connected to the chilled water system allowing for cooling of larger areas using AHUs and individual rooms with Fan Coil Units.
Elevator & Escalator Maintenance
Our purpose is to make sure every ride is safe, reliable and comfortable.
Our commitment is to regularly check and monitor the equipment's condition, perform routine procedures and keep the elevator & escalator equipment in the correct working condition through updated and modernization, as and when required.
Elevators have allowed buildings to be constructed taller and larger accommodating more people and services. Safety is paramount as human interaction with elevators & escalators exceeds that of most other MEP (Mechanical, Electrical, Plumping) technology in a building.
We offer modular based maintenance which is a preventative maintenance method where activities are done according to equipment specific maintenance plans and each main component of the equipment.
We also offer 24/7 customer care with a dedicated service hotline for reporting technical failures and faults of the equipment or for requests of other assistance on site. Upon answering a service request, we dispatch our technicians to perform Call-Out or Entrapment Rescue Service. We also train the building's maintenance personnel in emergency rescue and the general safety features and operations of the elevator.
Service requests for non-urgent service or repair work is assigned by our maintenance and service coordination team. Solving unexpected equipment failure, equipment stoppage or erratic operation requiring immediate attention is handled by the breakdown team. Response times are committed by us with mutual consent with the customer.
We are able to service and maintain elevators & escalators of various manufacturers. Our service technicians can effectively address and rectify any elevator & escalator from any manufacturer in all building types.
HIMOINSA, A YANMAR Company
HIMOINSA, founded in 1982 are leaders in the design and manufacture of power technology solutions. They supply power generation equipment to the international market including generator sets, lighting towers, power storage and distribution systems.
In 2015, HIMOINSA became part of the Yanmar Group (Japan, 1912), a pioneer company in diesel engine technology.
HIMOINSA, headquartered in Spain, established the first factory in 1982. Then onwards, the company began a process of constant internationalization with newer factories and sales offices strategically located to be near the customer.
Equipment for fixed installations noted for their reliability and speed of response. Generator sets capable of establishing communication with the grid and/or with other generators, able to operate in parallel, if the application requires. Reliable backup power with an immediate response time to ensure supply continuity in the event of a power failure.
Generators sets, lighting towers, power storage and distribution systems. Equipment for temporary applications, noted for their robustness and reliability of 24/7 operation, simplicity of use, low operating costs and respect for the environment.
Solutions that combine different power generation and storage technologies. Generator sets above 1 MW (Megawatt) for critical power supply, data centers, IPP, medium voltage, power plants etc.
Energy solutions for the telecommunication sector looking for reliable equipment, greater autonomy, low consumption levels and long service intervals.
Quality engines which are benchmarked in the international market. Performance, power and reliability of all its components.
Top brand alternators that guarantee unbeatable performance from STAMFORD and MECC ALTE offer reliability and durability.
Original Soundproof Canopy
Generator sets can be provided with HIMOINSA factory manufactured original soundproof canopies suitable for all outdoor weather conditions. Latest technology is used in painting, soundproofing, anticorrosion and metal treatment.
HIMOINSA manufactures control panels and controllers for users searching for simplicity of operation and quality of components. Electronics are designed to promote connectivity between generator sets.
Newspaper Printing Machinery
Goss International delivers unique opportunities for printers and publishers to advance the print medium to new levels of impact and value. Scan Engineering hopes to further this cause for the Sri Lankan market.
Entrepreneurs Fred and Sam Goss aligned innovation with customer requirements to establish the Goss Printing Press Company in 1885. That philosophy defines Goss International today. Worldwide development and support resources are anchored by world-class manufacturing sites throughout the United States, Europe and Asia, enabling Goss web offset presses and print finishing systems to set the standards for innovation, productivity and value.
Goss International has had an unrivalled record of breaking productivity barriers and delivering compelling new opportunities to customers. Today the company holds patents for more than 700 inventions, employs more than 600 engineers worldwide, and upholds an R&D commitment that continues to redefine the competitive potential of web offset production.
In 2018, manroland web systems and Goss International became one company: manroland Goss web systems. Aspiring to be an exceptional supplier serving global print markets with value-adding products and services. By combining the strengths and opportunities of two leading web offset equipment and service suppliers, they create a truly global entity, offering the broadest portfolio available on the market, with a lower cost structure focused on lean operation principles.
As the undisputed leading company in the market, manroland Goss web systems supplies newspaper presses and systems across the world. Products that have been printed using our systems reach over 400 million people in over 75 countries on all five continents of the world. It's a fact that makes us feel proud, and with good reason. Thanks to our wide range of modular systems, our customers are able to develop a flexible response to market requirements.
In this environment, press flexibility as well as production 'horsepower' have become key driving forces in the decision behind any new press purchase. The Goss® Universal press series, with one-plate-around and two-plate around cylinder configurations, meets these criteria with production capabilities up to 50,000 and 80,000 copies per hour respectively.
• Newspaper, semi-commercial and heatset capabilities
• Speed range from 45 – 80,000cph
• One-plate-around and two-plate-around models
• Wide range of cut-offs and web widths
• Horizontal or vertical web leads, depending on model
• Flexible configurations, including "T-90™"
• Folder choices to suit product requirements
• Shaftless drives throughout the press
• Award winning digital inking option
• 3-form inking, depending on model
• Dampening system choices for enhanced control
• Semi automatic plate change option
• Automated web-width change option
• Automated webbing for minimum job-change times
• Advanced OPCS control system
• Wide range of auxiliaries for special applications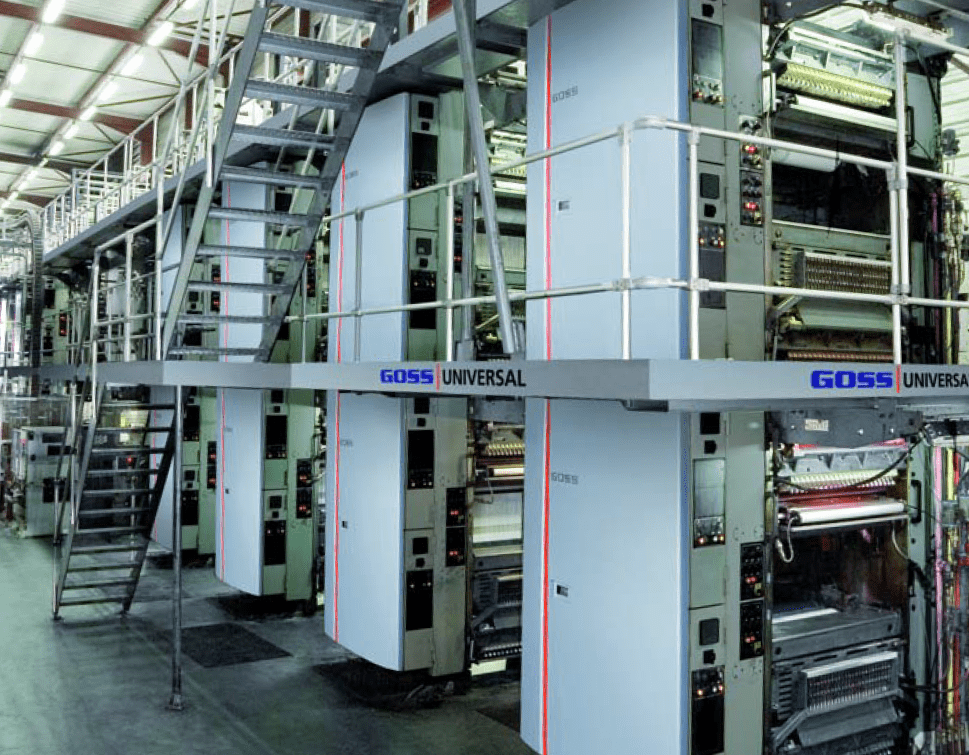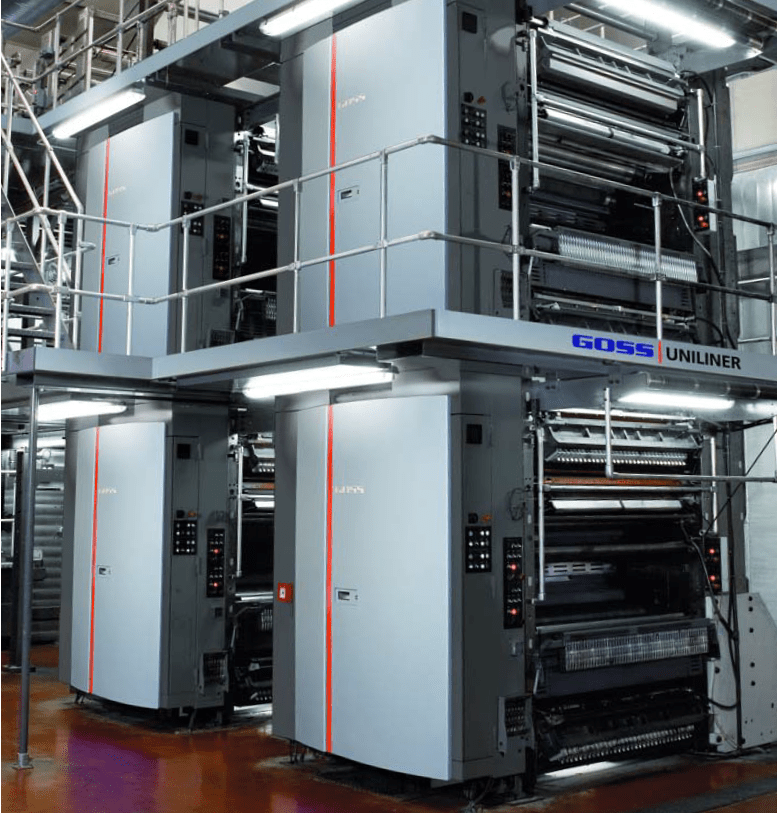 The modular design allows for 4×1, 4×2, 5×2 or 6×2 configurations, using a common base that shares major press elements and systems. Also, the Uniliner press series allows the unique choice of non-collect or straight/collect running for highly efficient production. For added flexibility, different cylinder formats can be combined into a single press line, where independent but flexible production is planned from two folders.
• Newspaper, semi-commercial and heatset capabilities
• Collect mode maximizes color content and paging
• 'Straight' production gives flexible section numbers & pagination
• Reduced plate cost and number
• DigiRail™ digital inking option with RIP pre-setting
• Semi-automatic plate change option
• Automated web-width change option
• 4-page section steps when running collect
• Flexible configurations, including "T-90TM"
• Fewer replates on long runs
• Up to 80,000 copies per hour
Retaining the proven and class-leading features of the Goss® Community® / Magnum™ product family – the world' s leading single-width press platform – the new Magnum Compact press introduces automatic plate loading and compact design to this market sector for the first time, making it ideal for producing run lengths from as low as 500 copies, through to 250,000+.
• Single-level compact design
• Three-part printing units
• Autoplate™ fully-automatic plate changing
• Shaftless servo drives
• Automated presetting and start-up sequences
• Slot-gap plate lock-up
• Reel rod blanket lock-up
• Blanket cylinder bearers
• Double-row pre-loaded roller bearings
• Solid stainless steel cylinders with AGMA class 12 gears
• Motorized ink fountain rollers
• Motorized Goss® remote control ink keys
• Automatic ink leveling
• Pneumatic ink train wash-up
• Automatic grease lubrication
• Motorized register control
• Spraybar dampening
• Automatic web-up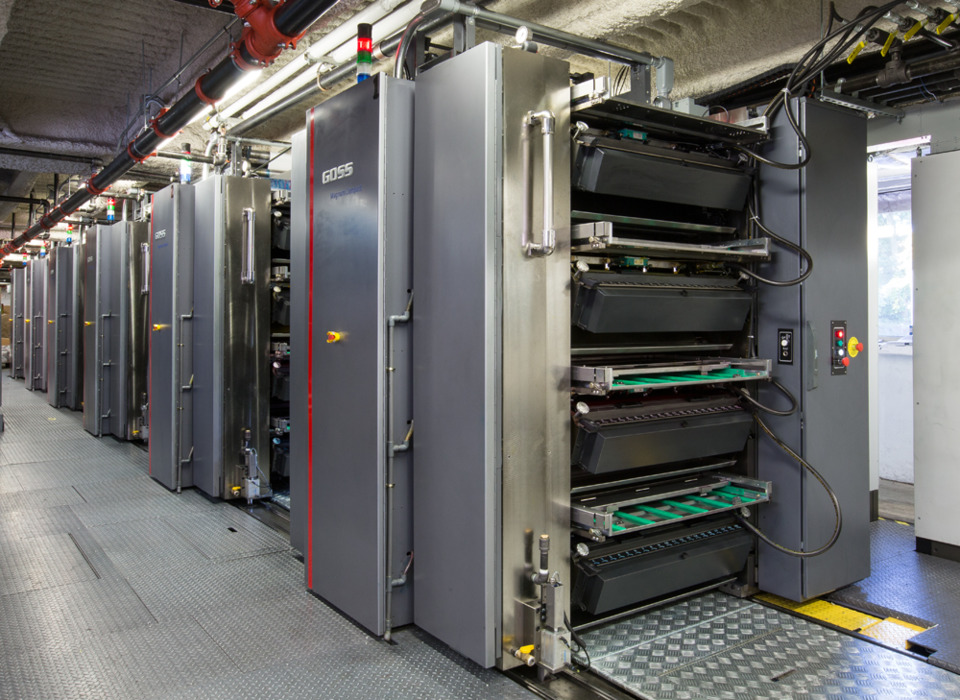 Ferag AG, with headquarters in Hinwil in the canton of Zurich, is a family-owned Swiss company specialized in the development and manufacture of complete intralogistics solutions as well as conveying and processing systems in the graphic arts industry.

Mailroom systems for small and large circulations are their core competency. From advice through conception to realization, Ferag offers complete solutions from a single source. High-speed systems for the industrial processing of newspapers, magazines and commercial products are as much a part of the Ferag portfolio as systems for the enhancement of print products.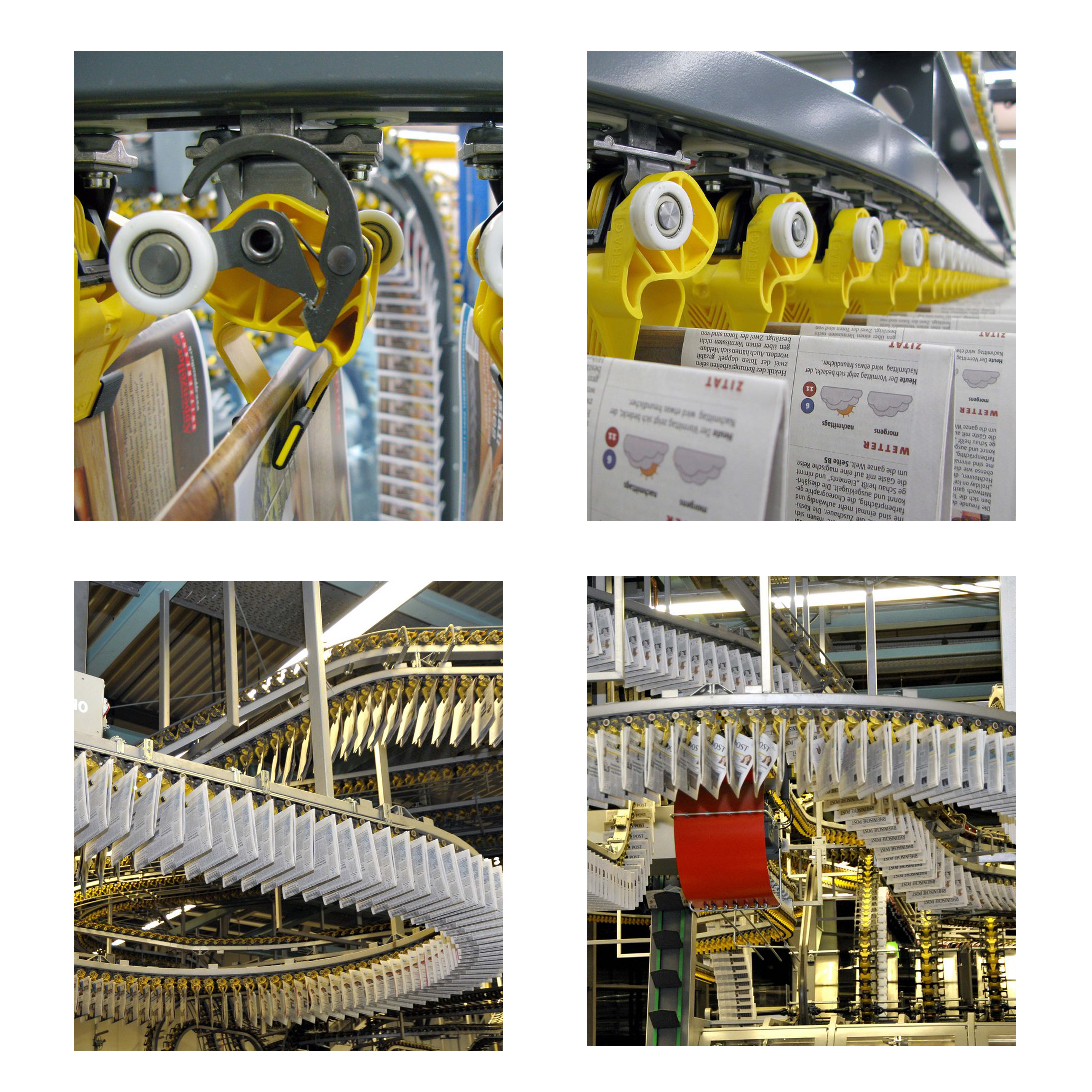 The UTR Universal Conveyor is the robust backbone of postpress processing. The high-quality, single-copy gripping systems are the most widely sold in the world and guarantee the dependable transfer of print products from the press and from postpress processing in the mailroom at up to 100,000 copies an hour.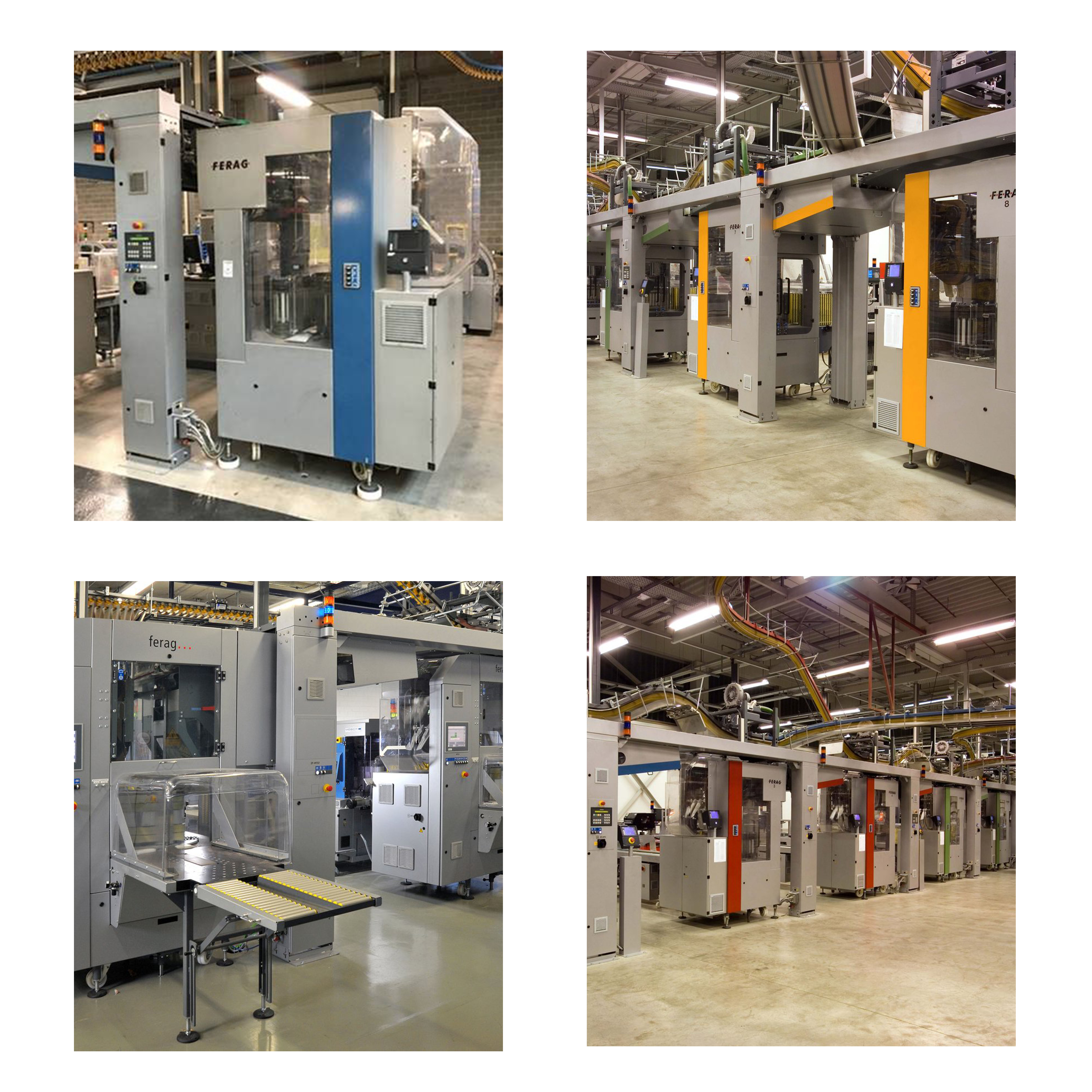 With the MultiStack and PostStack compensating stackers, Ferag covers bundling requirements in all performance brackets. Both models are distinguished by their robust construction, their functional and compact design, and their high-efficiency servo drive technology without pneumatics. As an option, the compensating stackers can be equipped with an inline topsheet printing and the automatic format adjustment system.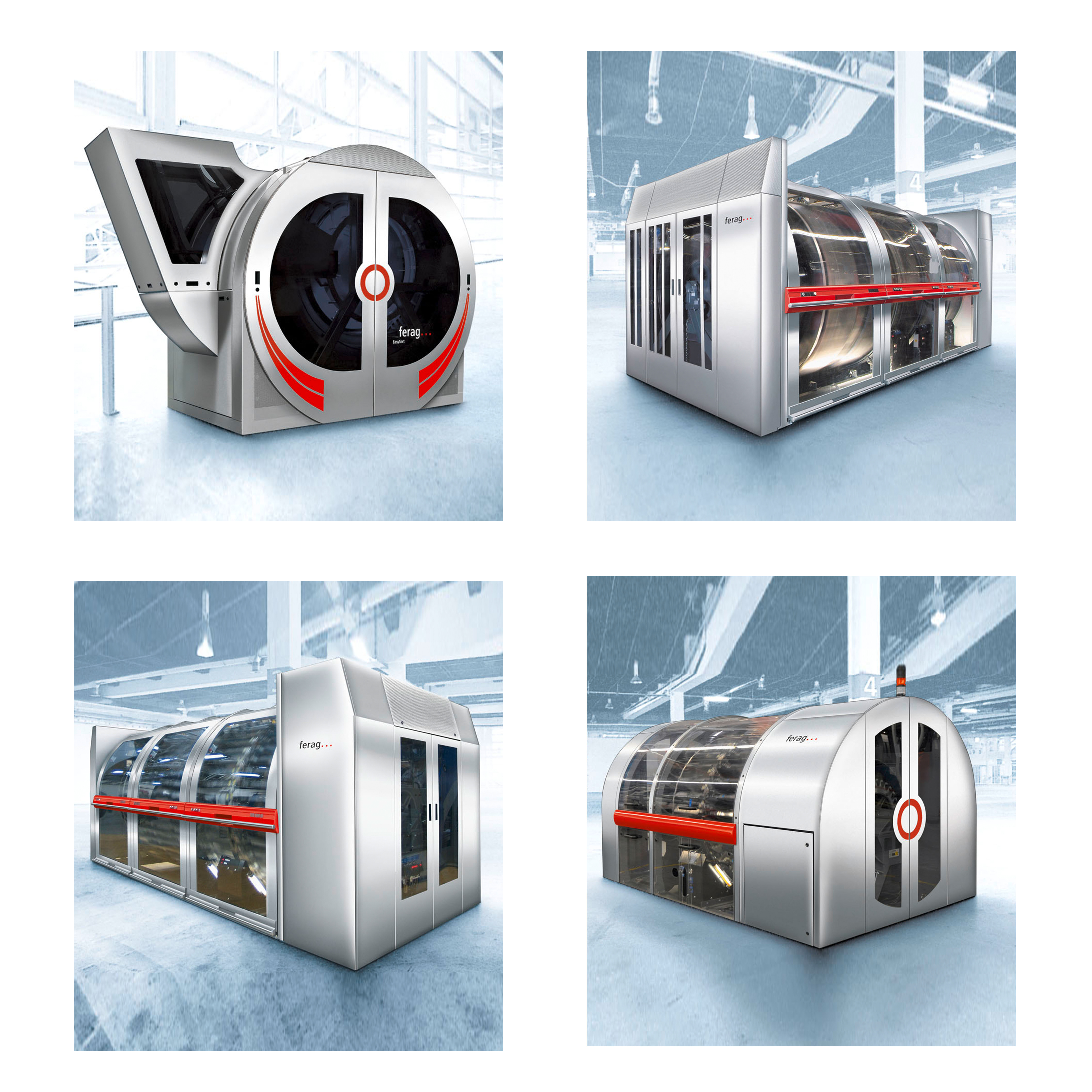 Only the rotary inserting concept from Ferag is able to dependably meet today's demands for performance, stability and inserting volume without compromise. Next to the compact EasySert and Rollsert models for the lower and middle circulation ranges, several versions of the MultiSertDrum inserting drum cover the whole spectrum of modern newspaper production, up to the very top. The two RollStream and Flystream precollecting systems enable a phased upgrade to a maximum of 40 hopper stations for commercial brochures and magazines.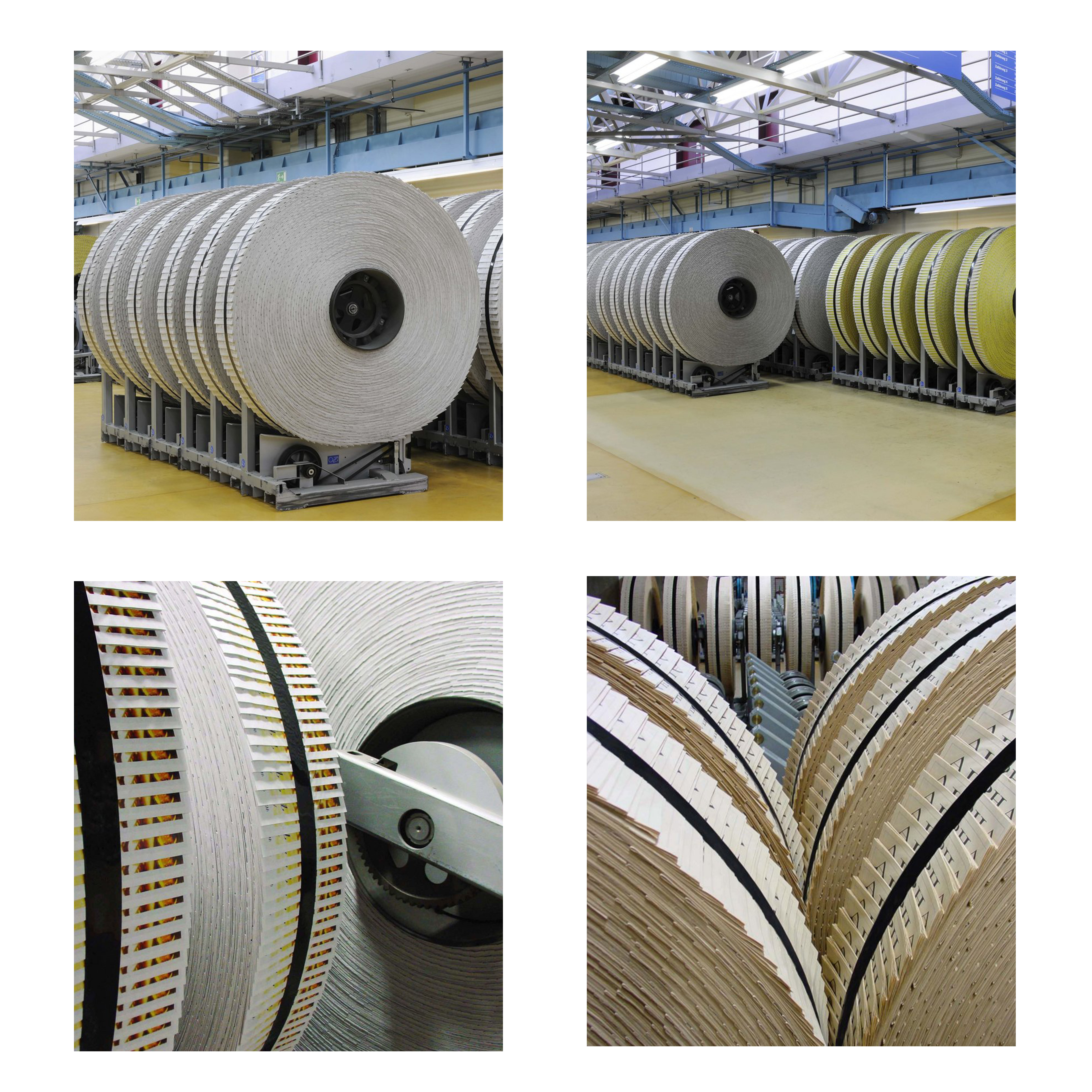 MultiDisc is a high-performance, space-saving storage system for newspaper and magazine processing that is gentle on products. The system is format-independent, and all adjustments to changing product lengths are rendered unnecessary. In addition to intralogistic applications, the mobile disc carrier is also suitable for interconnection with external users.
When it comes to the efficiency of a modern mailroom, added value like stitching, trimming, folding, gluing, foil wrapping and addressing are now factors that spell success. They offer both publisher and advertiser new ways to promote the publisher's own products and produce them in a magazine-like quality. Innovative special advertising formats also generate interactivity between the reader and advertiser and turn the newspaper into an attractive advertising platform. The return on Investment of a mailroom thus becomes equally attractive. All components in the area of added value can also be integrated into an installation as a modular retrofit.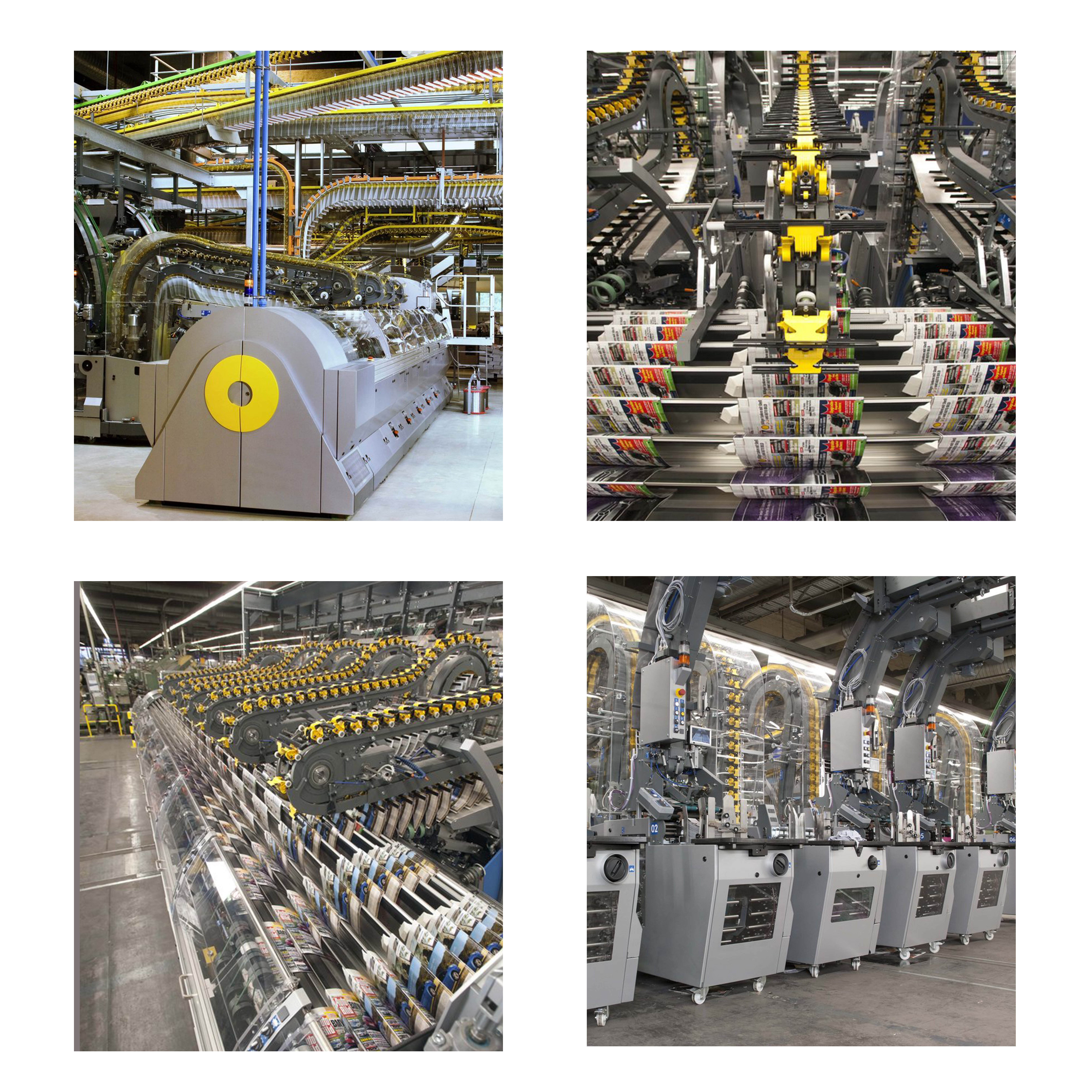 For the industrial postpress processing of magazines and periodicals in the high-speed sector, the UniDrum system is unsurpassed in terms of speed and flexibility. With production speeds of up to 40,000 copies an hour for A4 products and 32,000 for A3 products, the UniDrum achieves maximum efficiency while lowering costs per copy to a minimum. What's more, PreTronics for fully automatic format presetting makes for extremely short set-up times, while QualityEye detects skewed copies or incomplete sections, which in turn ensures very low levels of waste. In combination with the high performance SNT-50 trimming drum and the tried-and-tested inserting drum, trimming and inserting can be accomplished without a loss of performance. So net output comes very close to gross output. Single-copy addressing and foil-wrapping of products can also be integrated as and when required.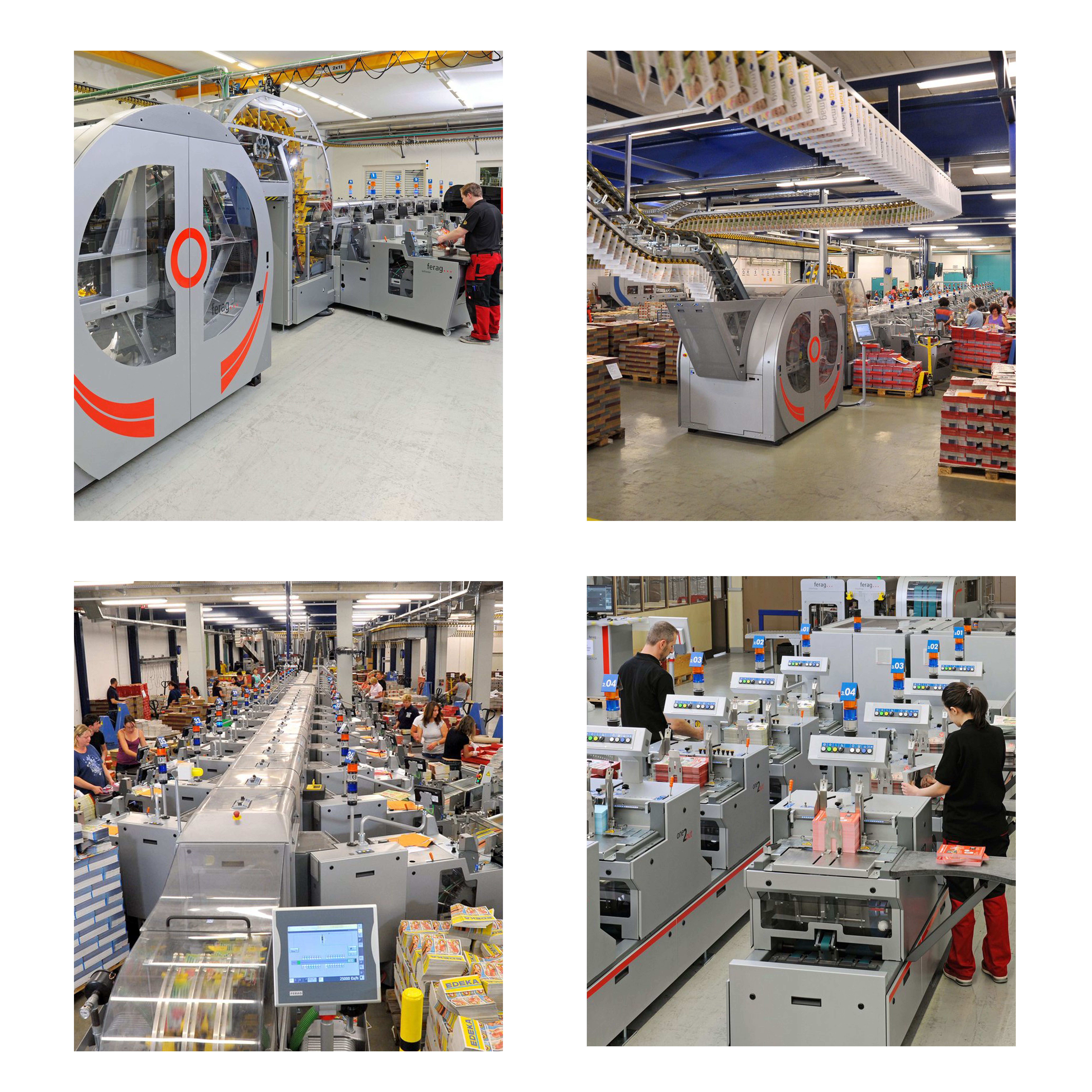 When processing advertising inserts for freesheets and weekly newspapers, in terms of efficiency Ferag is setting new standards. Whether it's with a cover, TapeFix, foil or folded insert – EasySert, RollSert in combination with FlyStream and one2out are the perfect solutions. The feeder processes all kinds of advertising brochures and magazines ergonomically and with high precision. And the repair system is a huge advantage. It returns incomplete collections to the loop and thus guarantees 100% quality. In addition, gap-free zoned production increases efficiency and boosts net output by a multiple factor. Time and money can also be saved at the planning stage thanks to the Optimizer, a Navigator control application. At the press of a button, numerous algorithms run in the background to calculate the perfect production strategy in a matter of seconds.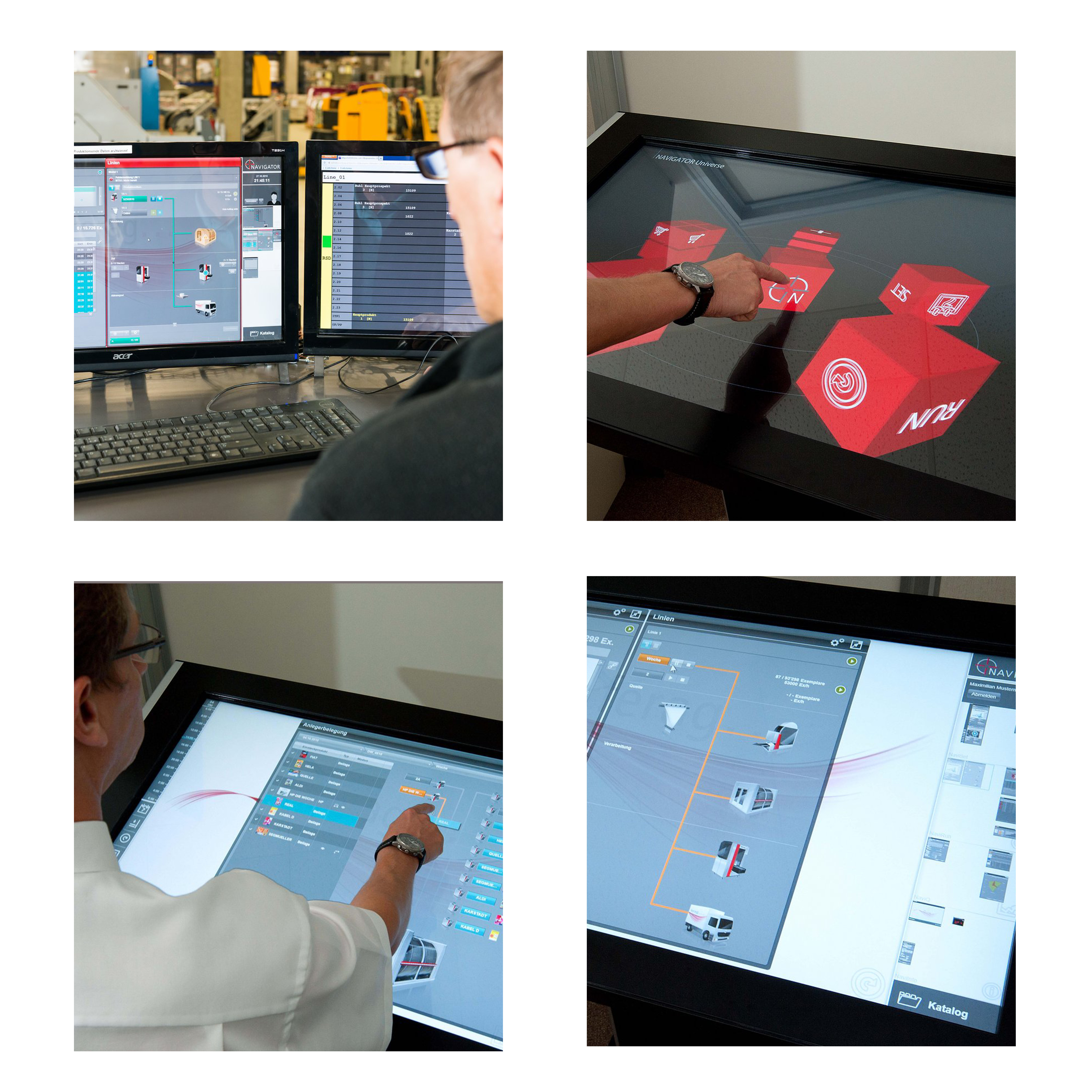 Thanks to the Navigator, the control and visualization of production and processes become child's play. Data input, assignment of production mode and quality control can be monitored by fingertip thanks to the Navigator's intuitive operating sequences, while generic plug-ins enable interfaces to any third-party component. And with the Optimizer, complex production plans are generated in seconds at the press of a key. The Navigator thus guarantees maximum efficiency and profitability. Process and control technology as well as series construction and sound technical support round off our electronics competencies. All software, automation and engineering solutions are programmed and implemented by Ferag subsidiary Sofel AG.